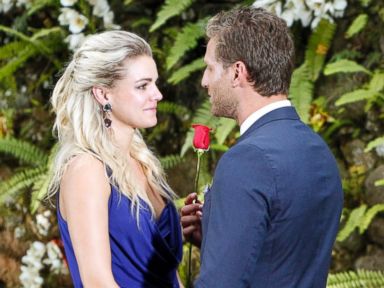 Last night on the "
Bachelor
" finale, Juan Pablo picked Nikki Ferrell but in an unusual manner. He bought a ring, but didn't propose. He said "I like you ... a lot," but didn't say "I love you." He continued to refuse to say those three magic words on "After the Final Rose," to the chagrin of host Chris Harrison. Also, when Harrison asked about their plans, like where they are in their relationship and where they plan to live, Pablo once again stonewalled the audience and its host.
Read: 'The Bachelor' Finale Full Recap: Juan Pablo Chooses Between Nikki and Clare
This "swkward" finale got social media buzzing. People began tweeting at Ferrell telling her to "leave him," that she "could do better," that she was "weak" and so forth. The newly-crowned "Bachelor" winner felt the need to respond to everyone with a tweet.
Related: Meet the New 'Bachelorette,' Andi Dorfman
"Being in the public eye does NOT give you the right to say what you want to me," she said. "Your words hurt no matter what. Be ashamed of yourselves."
Read more http://abcnews.go.com/Entertainment/bachelor-winner-nikki-ferrell-haters-ashamed/story?id=22860254